page 3 of 3

Some comic publishers continued to produce even more controversial material. By 1950 the uproar against comic books in general had become an epidemic, not only in America but in other countries as well. Wertham tramped across the nation, giving speeches to those who would listen...and there were many...writing articles for popular magazines and being interviewed on radio. All seemed to no avail as the crime comics kept on coming.
Although Wertham claims that almost all the comics were crime comics, in actual fact the numbers were quite small compared to funny animal titles. Thirty different crime comics were on the stands by the end of 1948 and by 1949 roughly one in seven comics was a crime comic.
Many historians feel that the smallest publishers were some of the worst purveyors of grisly, violent fare.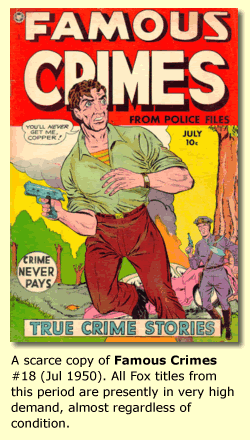 D.S. Publishing, for instance, lasted a very short time but managed seven titles in seven months during 1948. Comic Media and Story Comics were two other very small publishers who came and went. Story produced the very outrageous Fight Against Crime which soon turned to horror...and Comic Media produced Johnny Dynamite, a private detective in the Mickey Spillane mold, lasting nine issues between 1953 and 1954. Johnny Dynamite was well written and drawn and obviously meant for adult readers.
Then, in 1950, just as crime comics were toning down, there was a renaissance of depravity. And the new wave was led by one William M. Gaines.
Born in 1922, the son of comic book pioneer and All American line publisher Maxwell Gaines, Bill Gaines didn't have much interest in his father's business and wasn't too keen on comics. Then tragedy struck the Gaines' family when Bill's father was killed in a boating accident in 1947. A reluctant Bill found himself heir to a bunch of ho-hum comic titles that were going nowhere but down. Young Gaines, seeing the red ink on the ledgers, decided to do something to save the company. He canceled most of his father's titles and introduced new ones which fitted better in the postwar world. Two of the new books that came out in 1948 were Crime Patrol and War Against Crime.
Gaines disliked the poorly illustrated books of other publishers and realized that comic books could be an art form. He wanted only the best for his comics and Johnny Craig was one of the first greats to be taken on. He did much of the work on the two crime comics. Then came Al Feldstein. He and Bill Gaines shared much in common, both liking the old horror radio shows like Inner Sanctum and Lights Out. Soon Al Feldstein was not only illustrating but writing stories and editing the comics as well.
In early 1950 Entertaining Comics (EC) changed Crime Patrol into Crypt of Terror (to be rechristened Tales from the Crypt a couple of issues later) and War Against Crime became Vault of Horror. Shortly after came Haunt of Fear and EC's trilogy of horror were to shock and delight a nation...and still do to this day. Then in the latter part of the year just as U.N. forces in Korea were beginning to turn the tide against the communist North Koreans, Gaines launched a crime comic to end all crime comics, Crime SuspenStories.
For example, "In Each and Every Package" (Crime SuspenStories #22, April/May 1954) offered a dark, dark tale. Moodily drawn by the terrific Reed Crandall, the story concerns Norman, Bertha and Sally. Norman is married to Bertha and is going to kill his wife to enable him to have Sally...
"Norman moved through the upstairs hallway toward the bedroom. When he reached the doorway, he stopped. He stared grimly at Bertha, his wife. She was humming softly as she packed her clothes into the open suitcase on the bed. Norman shuddered. The time had come. The weeks of hoping and planning were almost over now. Sally was in New York, waiting for him. She's finished with her part of the scheme. Now it was up to Norman to complete his. He gripped the axe he held behind his back tightly and stepped into the bedroom..."
This introduction is Al Feldstein's genius at his best. Feldstein's writing sometimes reads more like novelette than a comic. (Some have even suggested that his comic writing was far better than many short stories, even novels, of the time.) Though a very disturbing tale, "In Each and Every Package" is a triumph of imaginative storytelling. (It is so good, in fact, I'm not going to say more except to say you can obtain the beautiful reprint facsimiles of this and ALL EC comics from Russ Cochran, Gemstone Publishing, 4 Court Square, West Plains, MO 65775, tel. 1-800-EC-CRYPT. I know I am giving a shameless, unabashed plug...but it is for good reason. EC Comics are incredible!)
But even EC sometimes stepped over the boundaries of good taste on occasion. Consider just two issues of Crime SuspenStories that came under fire. One was issue #20, and the other issue #22.
Had there been a crucifix available in 1954, Gaines would have surely been nailed up on it for these two. Looking at the covers of #20 and 22 one can perhaps see why.
There is little doubt that EC was the scapegoat to end all scapegoats. The small company which published a mere nine titles at its height, and was regarded with distaste...and competition...by the larger groups. Try as they may nobody could match EC's quality or sales. So when Wertham and the Senate Subcommittee to Investigate Juvenile Delinquency singled out EC, the other publishers were secretly pleased. Gaines was alone and unaided by any in the industry.


As Wertham waged his war against EC specifically (and crime comics in general), the field of battle expanded to include some unlikely targets. Wertham called Superman and Mighty Mouse "crime books" and labeled Batman & Robin homosexuals. Wertham also noted that crime comics carried advertisements for toys and seemed aimed at the very young. By 1953 there were something like 500 different comic books that apparently sold 60 million copies a month.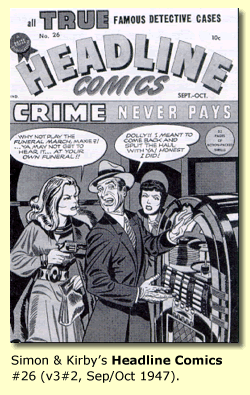 It seemed that time was running out for the comics industry. Public hysteria was at an all time high. State after state passed legislation to ban crime comics from their newsstands. Distributors and newsstands were threatened with closure, and even violence. Comic book burnings took place in cities across the nation, including Phoenix Arizona, Sacramento California, Indianapolis, Indiana and Oklahoma City, Oklahoma, among others.
Some, like the comic division of Fawcett, weary after 13 years of battle with DC, threw in the towel. Fawcett's crime titles were Suspense Detective, Underworld Crime, Down With Crime, and Mike Barnett, Man Against Crime. Apart from Mike Barnett, none showed Fawcett's name on the covers, a practice also followed by Harvey with its horror and war comics. Fawcett's crime comics were fairly intelligent, with good stories and good art by the likes of George Evans and Bob Powell.
Others bowed out before and after the house of Capt. Marvel. D.S. pulled the plug in 1949; Fox Features in 1953 (actually they quit earlier but some of their titles were issued with new numbering by M.S. Distribution in 1953); and Hillman dumped its reasonably good Crime Detective and Real Clue Crime Stories in 1953.
Avon Periodicals had a number of crime books to its name, though a number were one-shots. Famous Gangsters, Murderous Gangsters, Parole Breakers, Behind Prison Bars, Police Line-Up, Prison Break, and Gangsters and Gun Molls were all published between 1951 and 1952. These better-than-average books contained art by Wally Wood, Everett Kinstler, Syd Shores, Joe Kubert and Mort Lawrence. Avon thumbed its nose at Dr. Wertham when it published Reform School Girl under its Realistic Banner. "The graphic story of boys and girls running wild in the violence-ridden slums of today" said the blurb over the title. The picture and title were lifted from an Avon pocket book published in 1948.
Wertham said of the comic in his best-selling book Seduction of the Innocent (1954), that it "blends sex, violence and torture in its context." He didn't care for the advertisement featuring a figure enhancing device, either. Called a "Bulge-Master" this miracle worker sold for $5.95.
In Indianapolis, crime and horror stories were banned and New York passed a similar law only to have it vetoed by Republican governor Thomas Dewey. In Canada, legislation was passed to ban, outright, all American crime comics; the Minister of Justice of the Dominion of Canada called Crime Does Not Pay a "shocking instance of abuse of freedom of the press." As far as Wertham was concerned, Crime Does Not Pay was one of the "worst comic books, a veritable primer for teaching Junior juvenile delinquency."


Then on April 21, 1954, the Senate Committee of the Judiciary to Investigate Juvenile Delinquency (under the chairmanship of Robert Hendrickson and aided by fellow Senators Estes Kefauver and Thomas Hennings) began their investigation into the effects of crime comics on children. Encouraged by Lyle Stuart, business partner and friend, William Gaines elected to go along to speak to the Committee. Fredric Wertham was the star witness for the prosecution.
The comics industry was conspicuous by its absence. Henry Shulz, general counsel for the Association of Comic Magazine Publishers, appeared on behalf of the industry. Enter Bill Gaines, alone and unsupported by his contemporaries, to face a barrage of hostile questioning from Estes Kefauver.
After the many hours of testimony, the Senators were deeply shocked by what they saw and heard...and Gaines had done nothing to change their belief. Shortly after the senators released their report and everyone knew the end of crime comics was at hand.
Although the Committee fell short of recommending legislation to ban crime and horror comics, they suggested instead that the publishers clean up their industry...or the government might have to do it for them. The frightened industry announced the immediate formation of a strict comics code called the Comics Magazine Association of America. It was to be headed by the New York Magistrate Charles E. Murphy who gave his word the new code would be the strongest ever adopted by the communications medium "...a code with teeth in it." And it was. Overnight, comic books became cleaner than clean.
EC comics died. Crime Does Not Pay and Crime and Punishment adopted the new code but were so squeaky clean they didn't sell. After three or four Code approved issues, America's oldest crime comic was stopped. Prize Comics' long running Justice Traps the Guilty continued for another three years, albeit with a washed out ghost of its former pre-Code contents. It was all over for the most notorious and infamous genre in the history of the industry. Crime comics were no more.
Like so many things, crime comics were a strange and unique corner of Americana...and an extraordinary chapter in the history of comic books. Long live their bloody memory.
---
Originally published in
Comic Book Marketplace #65
(December, 1998)

©1998 S.A. Geppi, all rights reserved.
Used with permission.


Special thanks to Gary Carter and Jeff Vaughn of Gemstone
Publishing for allowing me to include this article.